NEWS FROM THE PRINCIPALS' OFFICE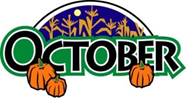 Greetings-
Fall sure came upon us in a quick hurry. We have already turned the heat on in the school! This also serves as a reminder that we need to be sure to send coats/hats/gloves for recess as it turns colder. We have more sick kiddos this past month then we did all last year—or so it seems.
We are halfway through our first nine weeks. The new staff has settled in very nicely and I already see strong relationships being built between them and their students. As I go by all the classrooms or do drop-ins, I see students very engaged in learning. We have a great staff on board who are dedicated to growing and supporting our students academically, behaviorally, and socially.
This year, we are starting school a little earlier, having a longer lunch, and in the high school we have homeroom for the last 25 minutes of the day in which students can work on areas of need in ELA or math, or they have time to do homework. There is also ample time at lunch to get some work done as well, if necessary. In doing this, we hope the students won't have as much to do in the evenings. The bus riders are also reminded to work on homework or study for tests as they are being transported to and from school. A student will never be turned away before or after school, if they would like to stay and get some help. We also have our state assessment scores back, as well as 2 rounds of Star360 results. These results guide us in where our students stand as compared to the state and nation's students at the same age. Overall, I am very proud of where our students are sitting. The hard work and high expectations are what helps us keep these kids on track for success in their future. However, your students still need support from you at home. Reading is very important for our children and is a big factor of success in all their learning. We ask that elementary parents, especially, take the time to read each evening with your child. As a team, we can do great things for our children.
Volleyball and football are well underway and both teams are doing super! Come support our volleyball girls on October 9th when Edmore hosts our only home volleyball game starting with 7th grade at 4:00 p.m. Elementary football and girls basketball are also in progress, and it is so fun to see these athletes improve as they learn the fundamentals of their sport. Cross country is also having a bit of a chilly season, with state Cross Country October 27th. Thanks to senior Sara Hodek for being our avid cross country participant over the years!
We have new Viking Families this year and we are meeting and coming up with ideas to better ourselves, support the people around us, and give back to the community. Come see the new banners hanging in the lunchroom!
Have I mentioned lately that we have THE BEST COOKS at Edmore School! We are enjoying our bountiful harvest from the school garden, made-from-scratch meals, and an AMAZING array of items on our salad bar! The cooks are always smiling and warming our hearts and tummies during the lunch period!
We welcome 2 new students, Kate and Lily Lowery, this year. Their mom also serves as our 2/3 grade teacher. Preschool brought us Katrina Beck and Easton Brekke. We have an enrollment of 50 students this year---and each and every one of them bring joy to the staff!!
A few important dates: Early out is October 3rd and we will be dismissing at 1:00 p.m. as the staff will be trained in AED/CPR. Each month we typically dismiss at 1:30 p.m. on the first Wednesday of the month to train staff and provide professional development in various aspects of education and student well-being. No school on October 17 -19th. On November 7th we will have student-led conferences beginning at 1:30 p.m. I will send out appointment times as we get closer to the date.
It has been another FANTASTIC start to a new year of learning and growth-
Yours in Education,
Diane Martinson, Principal