NEWS FROM THE PRINCIPAL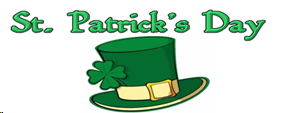 Top 'O The Month To You-
Can't help it…I am 100% Irish!
I think we can all agree that we are OVER winter! The kids just want temps that allow them to go outside and play! This has been the toughest winter to keep a full week of school in session. I am starting to see the Seniors getting a bit excited that their BIG DAY is just around the corner!! However, we still have a lot of work to get done before the school year ends!
I am very excited and proud to announce that Ethan Sampson received Honorable Mention for the 2018-19 Class B Academic All-State Team. Our varsity girls' basketball players have received NDHSAA Team Scholar Award as well!!
March and April are busy times for academic competitions. We have an Academic Olympics regional competition coming up on March 8th in Park River and the JH/HS Knowledge Bowl on April 11h in Cando. As a reminder, this is open to the public and you are welcome to attend the competition and cheer your child on.
Our State assessment is coming up for students in grades 3-8 and 10. The dates we have set for our school are April 16-18th. I will send another reminder next month, but I just want to be sure everyone is aware and we keep our students well rested and in attendance so they can do their best during that week.
"Pennies for Patients" was another HUGE success. Our students raised money for children suffering from leukemia and lymphoma!
Our Spring Student-Led Conferences are slated for Wednesday, March 13th. This is a very important time for the teachers to showcase the students and how hard they have worked. It is also a time for us to show you areas that your students could put extra efforts in throughout the remainder of the year and summer. A reminder that you can reach out to the teachers through email or a phone call at any time to find out how your child is doing. I also remind all parents that PowerSchool reflects your child's grades on a weekly basis and I encourage you to check this weekly and assess how your child is doing. The teachers are posting at least 2 grades per week and you are able to see if your child has completed the work or missing any assignments, etc. that could affect their grades and eligibility to participate in extracurricular events.
Quarter 3 will be ending on March 22nd. Report cards will be sent home the following week with the students.
CONGRATULATIONS TO THE LAEM CARDINALS GBB TEAM as they took 5th place in the State B Girls Basketball Tourney. We are so proud of our female athletes, Callie Ronningen, Morgan Freije, and Taylor Lorenz!! Callie received All Region as well as State B All-Tournament team honors. All 3 girls made the All-Academic Athletic Team!! The LAEM Cardinals were also awarded the NDHSAA Team Scholar award. BRAVO LADIES!!! What a GREAT SEASON!! A big shout out to our lone senior, Holden Mack, for boys basketball. Thank you for your dedication to football and basketball over the years! As I write this, the boys will be playing in the first round of Regionals! Spring Sports will be gearing up soon….we will have golf, track and baseball to keep our students busy starting in March.
As always, my door is open for any questions, concerns, or discussions.
Diane Martinson
PK-12 Principal